This laptop with a foldable screen is so cool!
Oct 03, 2019
This laptop with a foldable screen is so cool!
Over the past six months, we've seen some very strange and amazing Windows laptops. There was Lenovo's first "foldable PC," HP's dual-screen gaming laptop, and even the Asus laptop with two 4K screens.
As the smartphone industry looks to dual-screen and foldable phones, laptop makers are following, with Microsoft and Intel pushing them.
Microsoft has held a special Surface hardware event in New York City to unveil its latest range of holiday hardware. Also, anticipate what kind of hardware we'll see next year and beyond.
Microsoft, Intel, and others have been working on dual-screen and foldable devices that use special versions of Windows. Internally, Microsoft calls it "Windows Lite" and "Santorini," and it is designed to give preference to the Lite version of Windows for dual-screen devices. It was leaked yesterday that this will be called "Windows 10X".
Intel's dual-screen concept
Meanwhile, Intel has been pushing OEMs to create new dual-screen hardware, laptops made of fabric with multiple screens, and even wild, dual-screen game prototypes. The hardware looks futuristic, but some of it has already appeared or is on the way.
Microsoft hasn't released its dual-screen or foldable work publicly, but the company did hint earlier this year that the new version of Windows was playing with a seamless background update that sounded more like Chrome OS.
Today may be the day we finally hear more about Microsoft and Intel's ambitious plans. In recent years, Microsoft has created the new Composable Shell (c-shell) and Windows Core OS, a modular version of the existing Windows Shell that powers some parts of Windows 10, some Windows Core OS now provide hardware support for HoloLens 2, and Microsoft's upcoming Surface Hub 2X.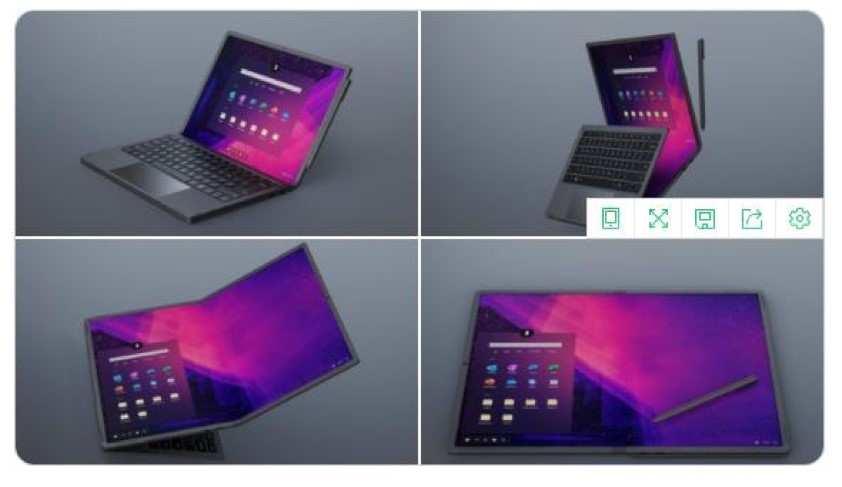 Microsoft folding laptop
Windows Lite is considered part of the work of the Windows Core OS, and Microsoft's changes to the Windows operating system will be key to the future of dual-screen and foldable hardware. The Windows Lite interface will be similar to Windows 10 but with more integration of Microsoft's Surface Hub shell and the previous Windows Phone Continuum user interface. The leak indicates that there may be some start menu changes, but the entire UI is sure to have a lot of work to do to make Windows shine on this new hardware.
Microsoft had previously teased its own dual-screen Surface device, codenamed "Centaurus", earlier this year. It aims to be the flagship of all these new dual-screen tablet/laptop hybrids and really show what these devices can do. Microsoft had previously been working on a smaller, "pluggable" Surface device codenamed Andromeda, but abandoned that in favor of the larger Centaurus hardware.
A pocket-sized Surface device is "definitely my baby," according to the person in charge of the Surface. Panay also revealed: "we will invent and create when the product is right. We can't bring a new category into the world and be a place where customers need it."
Microsoft canceled the Surface Mini before the Surface was released, so the Centaurus could still suffer a similar fate. Given the ongoing work on this project, Windows Lite and Intel OEM push, it seems likely that we will again see some strange and wonderful Windows devices.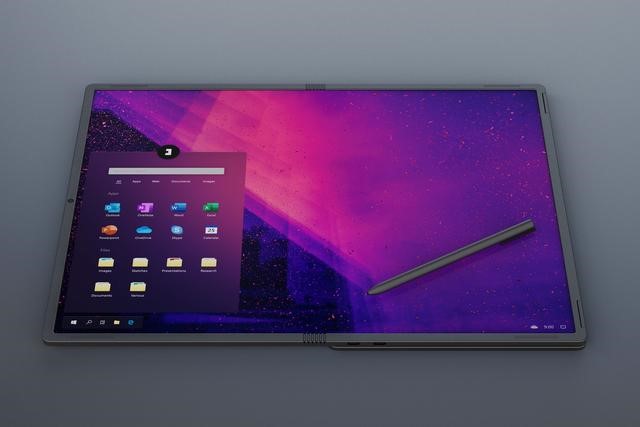 Microsoft folding laptop
If Microsoft is ready to show off its Surface work and its ambitions for dual-screen Windows devices, we can start to get a better idea of when these versions will finally be available to consumers. Lenovo has committed to launching its foldable PC in some form in the first half of 2020, so it is reasonable to assume we will see these devices next year. Either way, a ready, dual-screen and foldable Windows laptop is on the way.